Your Guide to Rear-End Collision Claims in Florida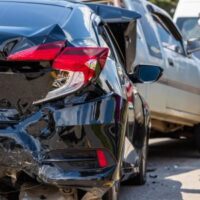 The National Highway Traffic Safety Administration (NHTSA) reports that rear-end collisions are the single most common type of multi-vehicle crash in the United States. Navigating the aftermath of a rear-end collision can be challenging. It is crucial that you have a full understanding of your rights and your options under state law. Within this article, our Lakeland car accident attorney explains the key things that you should understand about rear-end collisions in Florida.
Why Do Rear-End Collisions Happen? 
A rear-end collision can happen at any time. As with other types of crashes, the vast majority of rear-end accidents could have been prevented with adequate safety precautions. Here are some of the leading causes of rear-end collisions in Lakeland, Florida:
Distracted Driving: Distracted driving tops the list. With the rise of smartphones, many drivers text, talk, or browse while behind the wheel, taking their attention off the road.
Tailgating: Some drivers follow too closely to the vehicle in front, giving them less time to react if the front vehicle suddenly stops. Drivers must give adequate space.
Speeding: Speeding is dangerous. It reduces the reaction time a driver has to stop their vehicle, leading to potential rear-end collisions.
Impaired Driving: Alcohol or drugs can severely affect a driver's ability to gauge distance and speed, increasing the chances of a crash.
 Florida is a No-Fault Car Crash State: Initial Claim is Through PIP Coverage 
In Florida, the system for auto accident claims is primarily "no-fault." How does it work? Regardless of who caused the rear-end collision, drivers must initially turn to their own insurance policies for compensation. This is done through Personal Injury Protection (PIP) coverage—which every driver in Florida is required to carry. PIP covers medical expenses and, potentially, lost wages.
 You Can File a Fault-Based Personal Injury Claim After a Serious Rear-End Collision 
Although Florida's no-fault system initially requires drivers to file a claim with their own insurance, there are circumstances where victims can step outside this system. If you have suffered serious injuries in a rear-end collision—those being ones that meet or exceed a certain severity threshold—you have the right to file a fault-based personal injury claim against the at-fault driver.
 We Help Rear-End Collision Victims in Lakeland Secure Compensation for their Damages 
Hurt in a rear-end collision in Polk County? It is imperative that you are able to secure the compensation that you need to pay your bills and support your family. At Darla K. Snead, P.L., we help injured victims secure the maximum compensation. You may be able to recover for:
Vehicle repairs;
Emergency room care;
Hospital bills;
Lost wages;
Loss of earning power;
Pain and suffering;
Disability/disfigurement; and
Wrongful death.
 Schedule a Free Consultation With a Lakeland, FL Car Accident Lawyer Today
At Darla K. Snead, P.L., our Lakeland auto accident attorneys have the experience that you can trust. If you or your loved one was hurt in a rear-end collision, we are more than ready to protect your rights. Contact us today for a strictly confidential, no obligation initial consultation. With an office in Lakeland, we handle car crash claims in Polk County and throughout the surrounding region.
Source:
nhtsa.gov/document/analyses-rear-end-crashes-and-near-crashes-100-car-naturalistic-driving-study-support-rear