Common Mistakes To Avoid After a Car Accident (Part 2)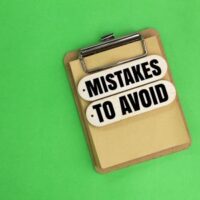 After an auto accident, it is crucial that you avoid making mistakes that could adversely affect your chances of recovering fair compensation from the negligent party. In this second part of the article, "Common mistakes to avoid after a car accident," we share five mistakes to avoid after a car accident.
Admitting Fault
After a car accident, you may feel compelled to take responsibility for the incident, especially if you believe you did something wrong. It is crucial that you avoid admitting guilt after a car accident. You may not know exactly what happened, hence it is best to let the police do their work and determine fault.
You should also avoid apologizing after an auto accident. After a car accident, it is normal to feel like you must apologize to the other party. However, even a simple "I am sorry" can undermine your personal injury case. Apologizing to the other party can be seen as an admission of guilt.
Failing To Retain an Attorney Promptly
After a car accident, you should not wait too long to retain an attorney. An attorney can help you starting at the accident scene. They can advise you on what to say and what not to say while at the accident scene. They can help you gather evidence at the accident scene. A lawyer can help you file your claim on time. Remember, there is a statute of limitations for filing personal injury cases in Florida, so if you wait to contact an attorney you risk running out of time to file your claim. Additionally, an attorney can help negotiate with the insurance company and represent you in court if needed.
You might think you can handle your case alone, but the truth is that personal injury claims can be complex and overwhelming. Trying to handle your case alone could result in a denial of your claim or a lower compensation amount.
Giving a Recorded Statement to the Insurance Company
Providing a recorded statement to the at-fault party's insurance company can harm your chances of receiving fair compensation. Often, insurance companies ask individuals for recorded statements with the hope that they may provide information the insurance company can use to minimize or deny their claims. Some things insurance companies look for in recorded statements include an outright admission of guilt, implied admission of guilt, inconsistencies with previous statements, and anything that minimizes the severity of injuries.
Accepting the First Offer From the Insurance Company Without Talking to an Attorney
Before accepting the first offer from the at-fault party's insurance company, it is vital that you speak to an attorney. Taking the first offer from the insurance company can be tempting, but there are several reasons why you should not accept the offer without talking to an attorney. For example, the offer may not account for all your damages. For example, you may need future treatment that you are not even aware of yet and is not being considered in the settlement offer. Also, first settlement offers are usually just a starting point for negotiations.
Not Following Your Doctor's Advice
Failure to follow your doctor's advice after a car accident can result in the insurance company arguing that you were never really injured, your injuries are not severe, or your injuries were not caused by the accident, so ensure you follow your doctor's advice.
Contact a Lakeland, FL, Auto Accident Lawyer Today
If you've been involved in a car accident in Florida, contact our Lakeland car accident attorneys at Darla K. Snead, P.L., for legal help.