Custody Exchange? There's An App For That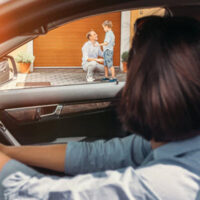 Today, there's an app for everything and that includes custody exchange, also called timesharing in Florida. There are several apps available on the market right now, but they all essentially perform the same task. Ultimately, both parents are connected through the app and can use it as a reference point for their visitation schedule. This helps couples communicate effectively concerning their children without having to necessarily exchange information through text, phone, or in-person. Ultimately, there are some couples who will prefer this while others won't really need it. In this article, we'll discuss how the apps work and why you might want to invest in them.
Why use an app? 
The apps were designed to reduce conflict between parents and keep all of their post divorce childcare needs in one easy-to-access place. This includes managing events, appointments, important court documents, documents related to the children's healthcare, and your visitation or custody schedule, and it allows parents to message one another through the app. The important factor here is that both parents have access to the same exact data and ideally, the app allows them to communicate more effectively.
While we don't endorse one app over the other as family law attorneys, the apps offer diverse services and aren't designed with the same goals in mind. So, familiarizing yourself with the various features can help you make the right decision on which app is best for you.
WeParent: Co-parenting app 
This app is designed to help parents communicate about their children, have access to stable information so there is no confusion, and keep all of the relevant information regarding their children in one place. It was designed by a Ph.D. in psychology who sought to help parents whose hearts were in the right place but were struggling to communicate with their former partner. In numerous cases, parents can make assumptions about what is happening next, unilaterally make decisions, or otherwise disrupt an agreed upon schedule. This creates animosity and is used in court hearings as a reason why the parent won't follow the court's orders. This damages their credibility and the court assumes that it will also harm the children. The WeParent app helps get both parents on the same page.
OurFamilyWizard 
OurFamilyWizard is another option for co-parents who want to prevent acrimonious communications. Each parent has their own account, and the app allows them to add as many other accounts as they need. This can include therapists, parenting coordinators, grandparents, and more. It even comes with a "ToneMeter" that informs a parent when their tone is going overboard. It then provides an alternative that would be less likely to trigger acrimony between the parents.
 TalkingParents 
Talking Parents is another app that parents often use to communicate.  Co-parenting situations that occur outside of Talking Parents may need documentation. Through Talking Parents, parents can save and secure pictures, receipts, and in-person situational recaps. Parents may keep everything pertaining to co-parenting in one place.  The app offers messaging, recorded phone and video calls, a shared calendar, and payments in one complete service. Additionally, they offer a phone and video calling feature, complete with call recordings and transcripts.
Talk to a Lakeland, FL Divorce Attorney Today 
Darla K. Snead, PL, Attorney at Law represents individuals who are going through divorce. Those struggling with issues of child custody or timesharing, child support, and alimony will find a supportive advocate. Call a Lakeland divorce attorney at our office today to schedule an appointment. We can discuss the best route for you to take and address any questions or concerns with the divorce process.